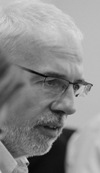 Professor Terry Young
Chair of Healthcare Systems

Welcome to my website.....
I joined Brunel as Professor of Healthcare Systems after a 16½-year career in industry, which started in broadband research and led in the end to healthcare strategy.
My initial research, after a PhD in laser spectroscopy, lay in finite element modelling of photonic devices and optical circuits. Later, with project and line management, my experience broadened to include business development and corporate technology strategy, mainly in healthcare.
In 2001 I joined Brunel University and I have focused on healthcare since then, winning more than £13M in Research Council grants. The largest of these, MATCH, involves three other universities (Birmingham, Nottingham and Ulster) and looks at the value of technology to care delivery. Another recent project, RIGHT, involved four other universities (Cambridge, Cardiff, Southampton and Ulster) and explored the use of simulation and modelling in service provision. My recent publications address healthcare delivery in terms of services, systems and technology, including commercial and investment decisions, uptake and adoption.
Enjoy...
Terry
My talk at the IBM Almaden Institute 2010