Welcome to STD Brunel's website. Yes we did have the name first! The home of Ultimate Frisbee in Brunel.

Yeah Brunel. We qualified for Nationals. Bring on the big boys in Cardiff.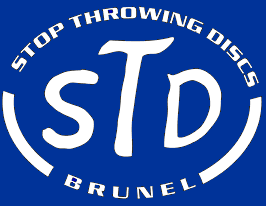 If you haven't heard of Ultimate you are still welcome. Frisbee is a mixed sport and most people pick it up at Uni, so don't worry if you haven't played before. Come along to Wednesday practice in the sportshall and find out how cool this sport is.
To find out more about Brunel Ultimate contact Gemma on me01gmt@brunel.ac.uk