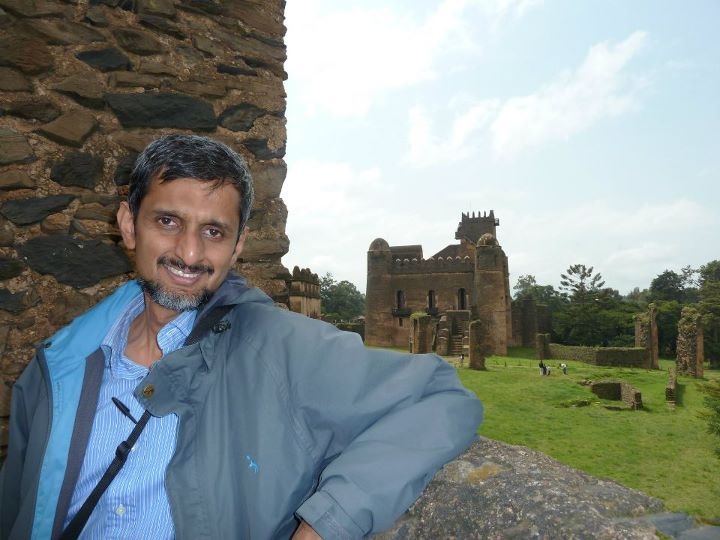 Dr Paresh Date
I am a Senior Lecturer in  in the Department of Mathematics , College of Engineering, Design and Physical Sciences at Brunel University. I am currently the Head of Financial Mathematics, Operational Research and Statistics (FORS) group in the Department.
My main research interest is developing algorithms for latent state estimation or filtering in nonlinear time series and applications of filtering, especially in mathematical finance. Besides this key topic, I have a diverse research portfolio which includes efficient ways of computing tail distributions in financial portfolios of nonlinear instruments, scenario generation and system identification.
---
Contact Information
College of Engineering, Design and Physical Sciences,
Brunel University
Middlesex UB8 3PH
United Kingdom
Email: paresh.date at brunel.ac.uk
Phone: +44 1895 265613
Fax:     +44 1895 269732
Short CV
Born in 1971, I grew up in Mumbai and in the neighbouring city of Pune in India. I did my Masters in Electrical Engineering at Indian Institute of Technology, Mumbai in 1995. I worked as an Engineering  Executive at Control and Automation Division, Larsen and Toubro Limited in 1995-96, before registering  for PhD at Cambridge University Engineering Department (CUED) , United Kingdom. I was funded by Cambridge Commonwealth Trust and by CVCP, UK for my doctoral studies. I worked at CUED as a Research Associate before joining Brunel University in July 2002. I have held short term visiting appointments at Indian Institute of Technology, Mumbai (2006-07) and Indian Institute of Management, Kolkata (2010).
Peer-reviewed Journal Publications 
A list of refereed conference papers is available here.
One conference paper unavailable on major online databases:
K. Ponomareva, P. Date and Z. Wang, A new unscented Kalman filter with higher order moment-matching MTNS 2010pdf.
Papers in scenario generation, nonlinear filtering, applications of filtering in mathematical finance and stochastic control applied to finance
Papers in insurance mathematics

P. Date, R. Mamon, L. Jalen and I.C. Wang, A linear algebraic method for pricing temporary life annuities and insurance policies,  Insurance: Mathematics & Economics, vol. 47, pages 98-104, 2010 (doi:10.1016/j.insmatheco.2010.04.004 ).

P. Date, R. Mamon and I.C. Wang, Valuation of cash flows under random rates of interest: a linear algebraic approach, Insurance: Mathematics & Economics, vol. 41, pages 84-95, 2007 (doi:10.1016/j.insmatheco.2006.10.001)).
Papers in system identification, model order reduction and model validation
Paper in explosion protection

P.Date, R. Lade, G. Mitra and P. Moore, Modelling the risk of failure in explosion protection installations, Journal of Loss Prevention in the Process Industries, vol. 22, pages 492-498, 2009 (doi: 10.1016/j.jlp.2009.03.007).
Current PhD Students
PhD Completions
2015: Mr Suren Islyaev, Nonlinear filtering in financial time series models.

2014: Dr Roberto Bustreo. Fast computation of value at risk in nonlinear financial portfolios with non-Gaussian risk factors .

2012:Dr Malek Abdel-Jawad,Optimal sovereign debt issuance.

2011: Dr Ksenia Ponomareva, Filtering for a class of nonlinear systems.

2009: Dr Luka Jalen, Some Contributions to filtering of financial Time Series.

2009: Dr Sovan Mitra, Stochastic Volatility Modelling and Option Pricing.

2008: Dr I-Chieh Wang, Dynamic Interest Rate Models and Their Applications.

2007: Dr Richard Hawkes, Stochastic Volatility Models

2007: Dr Bujar Gashi, Optimal Investment and Consumption: A Stochastic Control Approach.
Mphil Completions
2013: Dr Vladislav Soldatov, Bayesian Techniques for Discrete Stochastic Volatility Models

2012: Dr Sergei Sidorov, An Investigation Into Using News Analytics Data in Garch Type Volatility Models

2009: Ms Eleni Pepona, Identification of nonlinear interconnected systems.
Recent External Grants
2013: EPSRC overseas travel grant to fund a visit to Dr Bhaumik at IIT Patna, India, for research on variable sampling rate filtering, £8750.

2013: IMA grant for 'Advances in Financial Mathematics' workshop, £750. Schedule of this workshop may be found here.

2012: UKIERI grant from the British Council for a collaborative visit to Indian Institute of Technology, Patna, India, £1150.

2011: London Mathematical Society grant for holding an interdisciplinary workshop on the Mathematics of Filtering and its Applications(13th - 15th July, Brunel University), £2650.

2010: Royal Academy of Engineering conference travel grant, £400.

2009: WSEAS registration fees for International Conference on Systems Theory and Scientific Computation, Moscow, £300.

2007: Royal Society overseas travel grant to visit Prof Mamon in Canada, £1655.

2006-08: BP Integrated Supply and Trading, £62500 (joint with Prof. Mitra).

2004-08: Kidde Plc/ UTC group, £75000 (joint with Prof. Mitra).

2003-06: EPSRC/Optirisk Systems CASE studentship, approximately £45000.
External Professional Responsibilities
I was the course director for a one week EPSRC funded course on Convex Optimization at Brunel University in 2008, 2010 and 2012, also taught on this course at Edinburgh in 2014 and 2016. See www.natcor.ac.uk for a schedule for forthcoming courses.

I am an elected Fellow of the Institute of Mathematics and its Applications (IMA) and an Associate Editor of IMA Journal of Management Mathematics, which is published by Oxford University Press.

I have given invited talks on filtering applications in mathematical finance in various UK and overseas Universities. I also gave a plenary lecture on this topic at International Conference on Systems Theory and Scientific Computation, Moscow, 20th-22nd August 2009.

I am a regular reviewer for journals in mathematical finance (including Quantitative Finance) as well as systems theory (including Automatica).
Teaching
2nd year BSc module on Linear and numerical methods. Topics covered include Runge-Kutta methods,linear multi-step methods, LU factorization, linear two point boundary value problems and matlab programming for implementation of numerical methods.

MSc module on Risk, simulation and decision analysis. Topics covered include basic stochastic calculus, Black-Scholes pricing of European options, Delta hedging, Vasicek interest rate model

Some useful interview questions for quantitative analyst positions in investment banks may be found here (internal access only, thanks to Dr Mendi of Barclays Capital for compiling these).

Data for option pricing models for MA5507 assignment can be found here. (internal access only)