---
---
---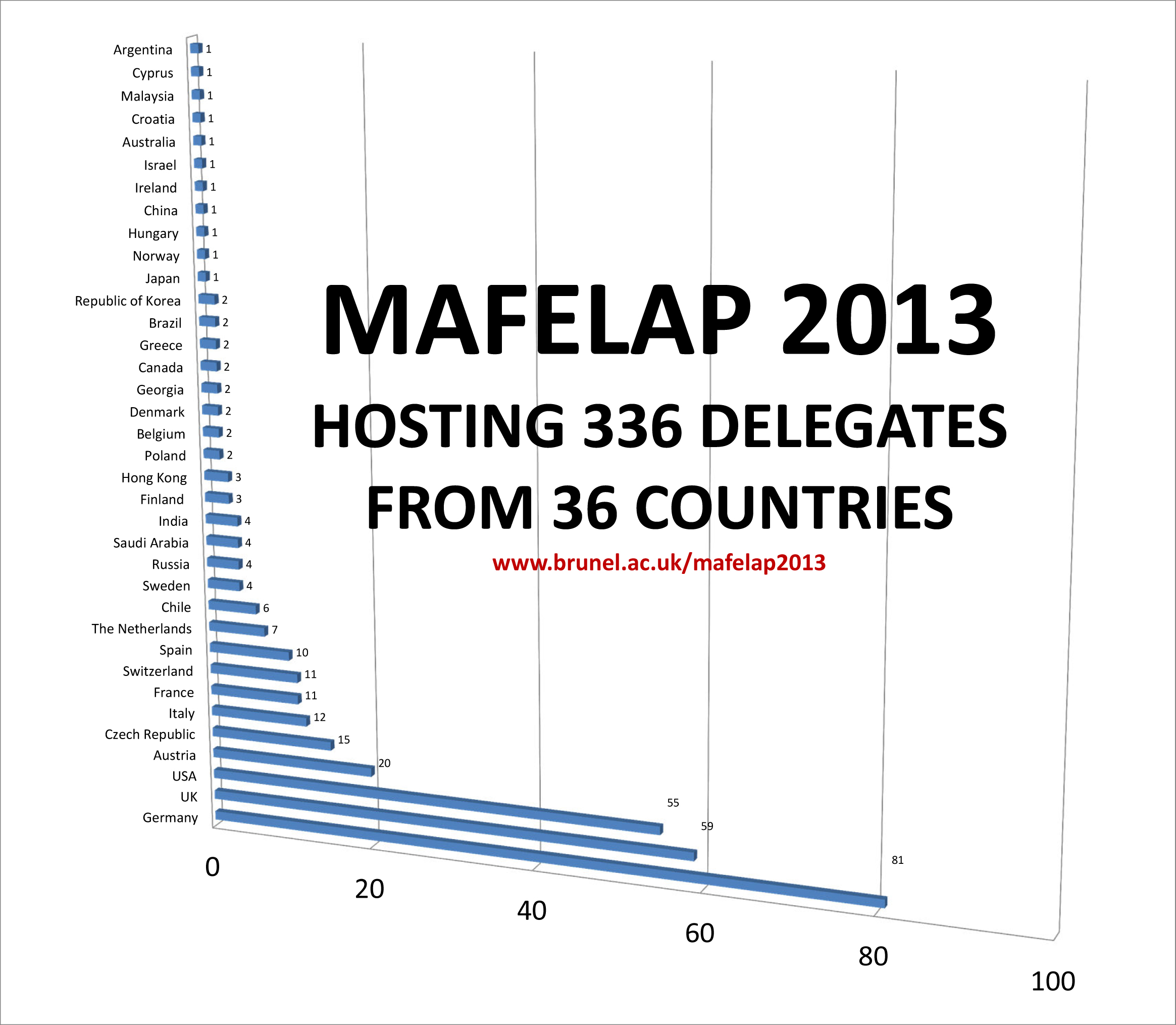 MAFELAP 2013 is now over. Over 300 researchers from over 30 different countries attended. Thank you to you all for making the meeting a success and contributing to the general buzz and vibrancy.
people.brunel.ac.uk/~icsrsss/bicom/mafelap2013
BICOM
The Brunel Institute of Computational Mathematics
presents
MAFELAP 2013
THE MATHEMATICS OF FINITE ELEMENTS AND APPLICATIONS 2013
11 - 14 June 2013
with an early evening 10 June welcome lecture by
J Tinsley Oden
The internationally recognized MAFELAP conferences have been run by BICOM at Brunel University at three year intervals since 1972. In these conferences exposure is given to research on the theory and practical application of finite element methods.
The fourteenth conference on the Mathematics of Finite Elements and Applications will be held at Brunel University and run during
11 - 14 June, 2013
with an early evening 10 June welcome lecture by
J Tinsley Oden
The aim will again be to bring together workers from different disciplines whose common interest is finite element methods, and to promote wider awareness throughout the finite element community of the latest developments in the field.
Further information is given below and more will be added as it becomes available. If you would like to be added to the MAFELAP email list please send an email to mafelap2013@brunel.ac.uk with the words add to mafelap list in the subject. (The body of the mail can be empty.)
Follow MAFELAP 2013

.
Add the RSS feed to google with one click:

.
Alternatively paste the URL http://people.brunel.ac.uk/~icsrsss/bicom/mafelap2013/feed/mafelap2013feed.xml directly into your reader.

The invited speakers are:

A hard copy of the book of abstracts will be available upon registration. This has now been sent for printing and so no more changes can be made to it. Three electronic versions of the up to date book of abstracts are available here for download. In these the abstracts are...

The current version of the programme will always be available here and please note that minor changes may need to be announced on a daily basis. Please check your details and advise mike.warby@brunel.ac.uk of any errors. Please note that only errors can be corrected at this stage. Substantial alterations are unlikely to be possible.

All of the lecture rooms will be equipped with a Windows PC and a data projector. Your files can be loaded via USB flash drives or CD/DVD ROM media. Powerpoint and a PDF reader will be available along with basic office tools (such as Word and Excel). No other facilites can be assumed to be provided by these machines. We cannot guarantee that these machines will have an internet connection - if you require this for your presentations please contact simon.shaw@brunel.ac.uk as a matter of urgency.

A VGA cable will be available for connecting a laptop to the data projector. Please ensure that...
You know how to toggle the video output to the data projector.
You have brought an adaptor in the case where your laptop does not have VGA output.
The second is particularly important. We do not have adaptors or cabling for any other type of video output (e.g. HDMI, DisplayPort).
Every room will also have either a whiteboard or a flip chart for making notes and sketches during, for example, the questions and dicussion periods.
4th April 2013, early bird registration
17th May 2013, normal registration
10th May 2013, deadline for partial refund due to cancellation
26th April 2013, all abstracts to be submitted
Full details of how to get to Brunel University are available here.
Important Note: it has been brought to our attention that contrary to the information we sent out by email, there is no longer a shuttle bus operating between the different Heathrow Airport Terminals. If you do need to travel between terminals then please consult the Heathrow Airport web page guidance: here.
Registration has now closed.
The conference is residential and, for those requiring it, accommodation will be available in single study bedrooms with private en suite facilities in the Lacy Hall of Residence on the Brunel University Uxbridge Campus. (Note the reception for residents will be in the adjacent Bishop Hall). It is anticipated that the standard request for accommodation will be for the nights of 11-14 June. However, for delegates arriving on Monday 10 June it will be possible, by prior booking, to have an evening snack between 18.30 and 21.00 hours, together with a room for that night and breakfast the following morning. Additionally, accommodation can also be reserved for the night of Friday 14 June. Dinner on the evening of Tuesday 11 June will take the form of a buffet with wine. There will be a Conference Dinner on the evening of Thursday 13 June. Non-residential participants are very welcome to attend the Buffet with Wine and the Conference Dinner. The costs for all the above are set out in the registration document downloadable from the links above.
We particularly encourage delegates to consider arriving on the 10 June in order to attend Professor JT Oden's early evening lecture.
This section is now closed. Details of the planned mini-symposia are given in the current version of the book of abstracts.
To enquire about mini-symposia please send an email to mafelap-mini-symposia@brunel.ac.uk. (This email will be automatically directed to the mini-symposium coordinator, Professor Norbert Heuer, as well as to the MAFELAP secretary, Carolyn Sellers).
When preparing your submission please follow the guidelines outlined in this PDF file (also available in LaTeX source).
As a result of a grant from the Institute of Mathematics and Its Applications (IMA) the conference is able to fund a number of MAFELAP 2013 Studentships for research students who are studying at universities in the UK and the Republic of Ireland, who do not have other means of support. These studentships will cover the registration fees at the conference (not accommodation or travel). Applications are now invited, and any student wishing to apply for a studentship should, not later than 17 May 2013, submit a Case for Support (not more than 1 A4 page) together with a supporting letter from his/her supervisor to mafelap2013@brunel.ac.uk.
BICOM is very grateful for this support.
These links are provided purely for convenience: we are not responsible for these schemes and have no administrative role to play in them at all.
Please let us know by email to the MAFELAP secretary, Carolyn Sellers, of any other relevant schemes. We would be pleased to link to them.
Contact details
mafelap2013@brunel.ac.uk
or:
MAFELAP, BICOM, Brunel University,
Uxbridge, UB8 3PH, England
Telephone: +44 1895 265184
Fax: +44 1895 269732
---
Maintained by simon.shaw@brunel.ac.uk | Updated continuously
---
BICOM | Department of Mathematical Sciences | Brunel University