!Converted with LaTeX2HTML 95.1 (Fri Jan 20 1995) by Nikos Drakos (nikos@cbl.leeds.ac.uk), CBLU, University of Leeds >
---
Next:
Results expected
Up:
Description of the
Previous:
Innovative aspects
---
We plan to stage the research work in clusters of separated tasks, though some of them will be executed concurrently, as shown in Figure 1. A first cluster will include tasks such as:
surveying and comparing state of the art techniques;
establishing some basic results (theorems and related proofs) needed for the design of our verification system.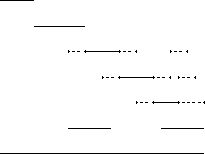 Figure 1: A gantt chart of the work programme. Straight lines indicate certain activity; dashed lines indicate possible activity.

This will take approximately 10 months. However, task 2 could be performed in parallel with the generic design of the system, so that the construction of the theory could be driven, in a sense, by the needs of the design and viceversa. A second cluster of tasks, to be covered in the remaining 14 months, will be dedicated to
design refinement;
construction of prototype;
testing.
The last two tasks will not be performed as a sequence: a feedback cycle between them will be necessary, which could appeal to the results of the design stage.
Moreover, we plan to write a series of scientific papers, aimed at both international conferences and journals, in order to disseminate the results of our research.
---
David Gilbert
Thu Jun 20 09:47:49 BST 1996